We support Tim & Hannah and their work for Latin Link in Brazil.
Hannah is the neice of one of our members and it is great to be able to offer suport to someone known to us. Tim, Hannah & Rita visited the fellowship and so we were able to spend time hearing about their work in both Brazil and South Sudan.
The family are now in Brazil and we will continue to support them financially and through prayer for their work in a new area. We will publish regular updates from them and indications for prayer.
Dear Gerry,

Our most exciting news this month is that Hannah is pregnant!

Rita's brother or sister is due in early December. We're not sure how much Rita has grasped - she repeats "Baby in Mummy's tummy! Baby in Mummy's tummy!", but she also seems to think there's a baby in Daddy's tummy!

If all goes well we hope to have the baby in the local hospital here in

Custódia.

So far we've been impressed with the SUS (Brazilian NHS) pre-natal care here. We were also encouraged when the Head of Maternity at a nearby private hospital told us she'd had both her children at the local hospital and would recommend it over the private hospital! It's very different from Gaibu.
I'm going to be a big sister!
A week in the life of...

Last month we spent time with Hannah's sister Liz and her husband Andy on holiday at the Iguacu Falls, and at a more local holiday destination, Gravat

á

. We also spent time in S
ã
o Paulo where Hannah interviewed 2 Brazilian candidates hoping to go on short-term mission with Latin Link for up to 2 years - although we nearly didn't go due to morning sickness! After travelling and Easter services, we are glad to get back to something like a regular routine. To help you pray for us, here is what a typical week in our life looks like (interspersed with pictures of our travels and Rita's 2nd birthday party!):

Monday

Monday is our regular day off. We take Rita to creche at 7.30 on weekday mornings and go to pick her up at 11.30, so we have Monday mornings to chill at home. Hannah sometimes paints; Tim often reads and watches cricket. In the afternoons we spend time as a family.

Tuesday

Hannah is the Short Term Missions Coordinator for Latin Link Brazil. She is in the process of sending several candidates and preparing to receive a short-term mission team from the UK in August.

It is a heavy workload and Hannah only has 2 mornings assigned for this role. Pray that others would understand this and not overload her. Pray for the candidates we send. Many find it hard to raise support from churches.

Tim uses this time to prepare sermons and bible studies, rotas, communicate with supporters and do life admin (tax returns, car documentation, visa paperwork - everything takes longer in a different culture!).

In the afternoons Tim has been running a bible study in

Sabá

and Hannah cares for Rita at home. In the main services we have been been preaching through Mark. The bible studies are a chance to explore and chat about the whole chapter in more depth. Sometimes there has been a group of five or six and sometimes only Sr Josu
é
, the leader of the community, but each time they have been worthwhile. We will consider if and how to continue these studies as we start a new series.

Hannah attends a prayer service on Tuesday evenings at the city church in

Custódia, and gives the talk once a month.

Tuesday evening is study time for Tim, who is currently writing a book looking at migration and borders in the light of the bible in his spare time.
We enjoyed a few days at Iguaçu Falls in April.
Rita probably enjoyed the bird park even more than the falls!
Wednesday

In the mornings we do pastoral and community visits in

Sabá. Tim has also been visiting houses to prepare for a project with Tear Fund to construct bathrooms in houses without them.

Hannah has been giving music lessons to 4 teenage girls.

In the afternoon it's Tim's turn to care for Rita and Hannah's to do preparation and admin. The evening is time for us as a couple.

Thursday

Hannah does Latin Link work in the morning. As well as being the STC, she is also on the Latin Link Brazil executive committee and has been preparing for our national conference in July which will be held locally here in the NE.

Thursday is Tim's "South Sudan Day". Tim works from home on South Sudan issues,speaking with church leaders and friends in South Sudan, circulating prayer requests, writing reports, advocating on issues friends from Abyei have asked him to raise, sending money to projects we support and following up afterwards, and so on.

In the evening there is a bible study at the city church. Tim attends and gives the study once every 3 weeks.

Friday

We have just started a mums and tots (0-3 years) group in

Sabá on Friday mornings, in response to popular demand. At the first session we had 11 children with their mums, and 3 local volunteers. We're still gathering together toys, books and other materials, and hoping to increase the number of volunteers from both Sabá and

Custódia centre.



In the evenings we have been hosting and running a group of up to 25 teenagers (11-15 years). Most of them are not from a church background but several have started coming to church after attending the group and some have become Christians. Others have been encouraged to think about faith and the bible at a deeper level beyond 'believe and be good' and consider what serving God and others means in the real world. However, we have found running this group exhausting. We star

ted the group because we were asked to, and no-one else would. While delighted at some of the results, we don't see this ministry as a strategic one for us and want to focus on other areas. So we're very happy that some of the young people (16-25 years) in the main city church have now decided to start up a fortnightly meeting after many of the teenagers attending a camp they ran earlier this year, and see this as an opportunity to step back from this work.
Rita's had a great 2nd birthday party with Pr Neto & Tania (pictured above), our neighbours, a couple of young families from church and a few classmates.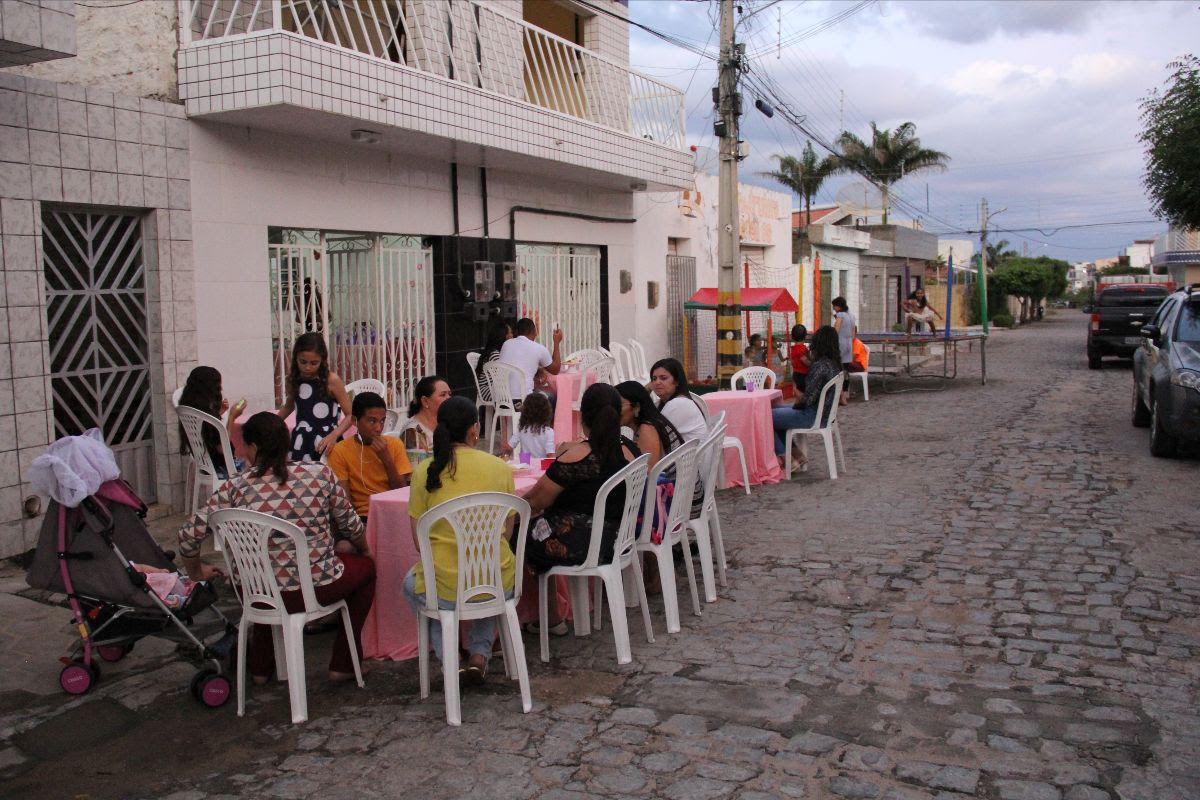 She was a bit ill the day of the party but brightened up when she saw the trampoline and ball pool! We also had a great day at a local water park on her actual birthday.
Saturday

Saturday morning is blank in our schedule - this is an attempt to 'build margin' into our week, allowing us to respond to things that come up. That might be visiting someone in the middle of a personal crisis, preparation work, or running round getting donations in kind for activities in

Sabá. It also allows us to switch our week round if something comes up midweek.



Occasionally we have events on Saturday mornings at the city church - Tim recently led a training session on biblical leadership for pastors from local churches in

Custódia and nearby towns.



Our weekly services in Sabá are on Saturday afternoons at 4pm. This allows a team from the main city church to travel up and run the services. Tim organizes the rota/carshares and preaches once a month; Hannah preaches once every two months. Most of the people who help out are young people (16-25 years) so supporting them and helping them to think about what they are doing and how is an important part of our role.

In response to popular demand, we have organized music lessons with guitarists from the city church in Sabá before the services. We hope some of the students will join the worship group soon! Last week Tim began meeting with a guy who has expressed interest in becoming a Christian before the services, to pray and read the bible together. He has said he wants to stop drinking, and Tim has offered to accompany him to local AA meetings. He has 2 weeks' work in a nearby city now, but hopefully these meetings will continue when he returns.

Sunday

In the mornings there is a bible study at the city centre church. We don't lead anything on Sunday mornings so this is a chance for us to be spiritually fed. Usually there is a creche which Rita has finally settled into.

The main service is in the evenings. This can be difficult for us as the service happens over Rita's bedtime, and there is usually no creche. Tim preaches around once every two or three months in the missions service on the last Sunday of the month.

We hope that helps you to imagine what our lives are like and perhaps pray along with us during the week!
Igua

ç

u may be beautiful, but so is

Sabá! Seen here from the highest point in the community (and second highest in our state of Pernambuco).
FAQs:



Do you work in Brazil or South Sudan?

Both! We live in Brazil but make visits to South Sudan every year. God has given us a heart and long-term vision for both countries.

Where are you living now?

Last year we moved 6hrs inland within Brazil to Custódia. Custódia is in Northeast Brazil's semi-arid sertão region in Pernambuco state. We work with the Betel Brasileiro denomination with a focus on outreach to quilombolas in Sabá.

Who are quilombolas again?

Quilombola communities are predominantly Afro-Brazilian communities formed as an act of resistance to slavery and racist oppression, often hundreds of years ago. It is estimated that there are over 5,000 quilombola communities in Brazil. Quilombolas are considered an "unreached people group" in Brazil.
Prayer points:

* Pray for a safe pregnancy and for the morning sickness phase to end soon!
* Pray for the
family
of
O
. Although 3 of them became Christians last year and want to be baptised, they have not been attending church recently for various reasons. We had hoped to involve them more in leading services as they model new life in Christ to others who are thinking about making a decision.
* Pray for W, who is thinking about becoming a Christian and who wants to give up drinking.
* Pray for (another) W who has severe depression and has been repeatedly interned.
* Protests and negotiations continue in Sudan following removal of former President Bashir and some of his allies. Thank God for the involvement of the Church in the protests. Pray that the revolution would be completed, and a genuinely representative civilian government installed as soon as possible.
Thanks for your prayers and participation in God's mission with us.

Love and solidarity,

Tim, Hannah, Rita Nyanabyei & bump x