World of Worth
Another of the worldwide ministries we support is WOW!
contact details and much more information can be found on their website www.wowuk.org but we thought we would just share their latest newsletter with you.
Liberating Families & Communities From Povert
y

15 DAYS TO GO!!!
We do hope that by now you have at least started your Christmas shopping, hung your decorations, put up your tree, organised the family chaos of who's cooking the meat, who's bringing the veg and who's on the Christmas pudding ...
In this time of busyness where the calendars are full with Christmas parties, the wrapping paper has once again made its way out of the attic and the 'wishing it was all over by now' mindset has begun, we pray that we'd also take time to think of those who would trade anything just to experience a glimpse of our Christmas.
We are so blessed and we believe that Christmas is an amazing opportunity to be able to GIVE.
Give to those whose Christmas won't include a turkey in the oven, a tree surrounded with gifts, the ability to binge watch Christmas movies all day, playing with new toys and time spent with the ones they love.
Our Christmas Appeal is one of my favourite times in the WOW Calendar. I love getting the opportunity to give a gift that reminds our students, women and children that they belong to and are loved by God and that people all over the world want them to know that!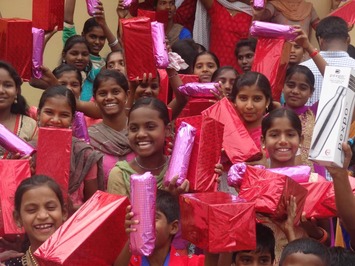 There is a Christmas song at the moment called "That's what Christmas means to me"
The lyrics say this:
All these things and more
That's what Christmas means to me my love
Dress the trees with angel hair
... I talk about desserts underneath the tree
Talkin' 'bout lights of nights and snow
Yeah, that's what it means to me
I love the song, but every time I hear it I can't help but think of the privilege we have to organise this appeal - seeing those faces and the impact that our giving has is worth way more than the presents under my tree, the dinner in my oven and it is what Christmas really does mean to me.
I would love to extend the
invitation for you to join WOW
as we spread Christmas cheer
to all of our projects around
the world.
It may look and feel like just some money sent in the post, or put into the bank, but the impact that your giving has is amazing.
It costs just £10 to be able to buy everyone on our projects a gift. It might be toys for the children, or school supplies for the next year, it might be a new sari for a widow, it may be a Christmas lunch for a Bible college student.
However, wrapped up in all these things is something worth way more than the gift itself, wrapped up inside is a whole lot of love and a reminder that they are seen, known and cherished by God.
There are a few ways you can give:

Visiting our website and clicking donate

Sending us a cheque in the post



Or

Giving us a call at the office - you know we always love to catch up with you!
"Christ has no body now but yours. No hands, no feet on earth but yours. Yours are the eyes through which He looks compassion on this world. Yours are the feet with which He walks to do good. Yours are the hands through which He blesses all the world. Yours are the hands, yours are the feet, yours are the eyes, you are His body. Christ has no body now on earth but yours."
- Teresa of Ávila
THANK YOU so much for all your support, have a wonderful Christmas and an even better new year.